Healthcare Simulation Week 2023 takes place between Sept. 18 and 22. To help recognize the importance of healthcare simulation and the work being done in that area at the University of Saskatchewan's Clinical Learning Resource Centre (USask CLRC), we're showcasing some of the people who help provide health science students and community partners with an innovative, educationally rich environment through simulation education, technology, research, and evaluation.
In this Q&A, we asked Director of Clinical Learning Services Mark Walkner about the CLRC and the importance of simulation education.
---
What is simulation education and why is it important in healthcare?
In healthcare, simulation education generally utilizes technology, realistic training equipment, and simulated patient actors to create a learning environment that replicates a clinical setting as closely as possible. Credible and believable situations that pose no risk to actual patients are required so learners can practice their skills without the fear of making mistakes or the pressure of being immediately proficient.
Healthcare simulation education promotes psychological safety and allows learners to gain confidence in their abilities in a collaborative and welcoming environment, but it has benefits reaching far beyond simulation facilities such as the Clinical Learning Resource Centre (CLRC) at the University of Saskatchewan. Whether the skills in question involve clinical interactions and assessments with a simulated patient or practicing lifesaving skills on a high-fidelity manikin, the goal is to improve patient safety and experience by allowing learners to practice their skills in a safe and controlled manner for all involved before applying those skills in the real world.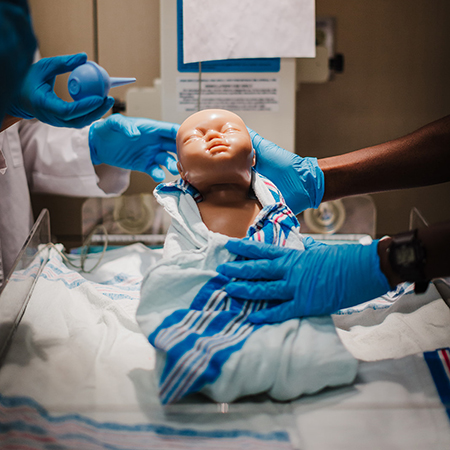 How would you describe what simulation is to someone who has never experienced it?
In healthcare education, simulation helps create a credible, lifelike interaction. Each simulation attempts to accurately and consistently replicate the unique scenario related to the skills being practiced.
Take, for example, an interaction with a patient who is receiving bad news. In a simulation like this, the learner would work with a simulated patient who has been trained on the scenario in question and would practice communication skills by navigating a difficult conversation with compassion and empathy.
Simulation is also used to improve skills extending into group dynamics. In the CLRC's simulation lab, for example, teams of residents can practice working together in a replicated hospital trauma bay. Here, they can manage a complicated pediatric emergency and practice essential skills on a pediatric mannikin while interacting with a trained actor playing the role of the "child's" parent.
The CLRC team has the capacity to bring any number of different scenarios to life. That's why simulation education is such a powerful tool for healthcare learners at USask. If our programs can dream it up, we can make it happen.
Which academic units at USask use simulation in their instruction?
Units supported by the CLRC include:
the College of Medicine (undergraduate and post-graduate/residency programs)
the College of Nursing (including the Bachelor of Science in Nursing program, Post-Degree Bachelor of Science in Nursing program, and the Nurse Practitioner program)
the College of Pharmacy and Nutrition (PharmD program)
the School of Rehabilitation Science (Master of Physical Therapy program)
the Western College of Veterinary Medicine (DVM program)
How does simulation and other work by the CLRC make an impact here in Saskatchewan and around the world?
Simulation education is highly beneficial to patients, their loved ones, and the next generation of healthcare professionals studying at USask. Practically anyone can benefit from having simulation incorporated into a healthcare learner's education and skill development.
The work we do at the CLRC supports learners through their educational journey right from day one all the way through to licensure. We pride ourselves in helping the university's health science learners reach the core competencies expected of them for their program and level of learning.
Because of our partnership with the Saskatchewan Health Authority (SHA), learners have the ability to seamlessly transition into their professional journey right here in the province. We are also creating lifelong learning opportunities that incentivize staying in Saskatchewan. It's our belief that by building a high functioning team and offering engaging, innovative, and challenging learning opportunities, we can facilitate a constructive relationship with developing practitioners that can take their experiences and knowledge to all areas of the province. This also gives our learners the opportunity to take the innovative learnings they have received at the CLRC and demonstrate them to other practitioners throughout Canada and other areas of the world.
The CLRC supports five USask health science colleges and schools and facilitates almost 2,200 events a year — including national licensing exams and simulation learning opportunities for external partners. Is there still room to grow?
Absolutely! With the increased demand for health science professionals in the province and the growing interest in simulation education, we are seeing a continual increase in learner activity within the CLRC. Year over year we are supporting an increased number of learner events with larger cohort sizes allowing more learners to benefit from simulated learning. We are excited about the relationships we have built with the university's health science colleges and schools over the past two decades; however, with the increased exposure of simulated learning and the benefits received by university learners, the CLRC is enthusiastic about the potential to expand services to other colleges within the university.
---
The Clinical Learning Resource Centre (CLRC) was launched in 2006 as an interprofessional education and training centre dedicated to providing University of Saskatchewan (USask) health science students and community partners with an innovative, educationally rich environment through simulation education, technology, research, and evaluation.
The CLRC aims to improve patient safety, quality of patient care, and the work of professionals seeking to further enhance their knowledge, skills, attitudes, and practices.
The CLRC is uniquely positioned to work with clients to customize an extensive range of training and testing simulation scenarios thanks to 24 dedicated clinical simulation rooms, four expansive procedure lab areas, three simulation suites, and a variety of specialized simulation equipment and technology.
With an average of over 70,000 learner contact hours supported each year, the CLRC has evolved into a super-sized simulation centre dedicated to providing healthcare students the opportunity to learn and practice clinical and communication skills in a safe, simulated environment.
In addition to helping students safely apply theoretical knowledge through real-world scenarios, the CLRC helps make client goals and student aspirations a reality by providing debriefing opportunities and examination resources designed to develop and/or assess clinical skill performance and other essential competencies.
---