Overview
The Clinical Learning Resource Centre (CLRC) supports health science learners in the development of clinical practice and team-based skills through simulation-based education and assessment. Simulation-based activities have the ability to increase procedural, behavioural, and cognitive skill development while facilitating confidence and safety in the ability to treat future patients. Depending on the need of the educational program or student cohort, the CLRC can provide a range of simulations and learning opportunities to help prepare and assess the next generation of health care professionals.
Learning opportunities at the CLRC include:
Physical history and assessments utilizing simulated patients
Advanced and difficult communication
Procedural skills training
Team-based training
Critical event training
Clinical skills assessments
Professional licensing assessments
The Clinical Learning Resource Centre's team of in-house simulation specialists, technicians, and coordinators is frequently relied upon to administer or assist with a number of unique simulated scenarios. Academic and CLRC teams are supported by the CLRC's diverse facilities and sophisticated equipment and/or the trained simulated patients who study the roles required as part of the Simulated Patient Program. Professionally trained healthcare professionals often participate in the scenarios to enhance the reality of the situation and encourage interprofessional team-based behaviors. These robust and unique scenarios can be tailored to address the evolving needs of health science educators and learners.
In delivering simulation-based education, the CLRC adheres to the standards of best practice developed by the Association of Standardized Patient Educators (ASPE; 2017) and the International Nursing Association for Clinical Simulation and Learning (INACSL; 2021). 
To learn more about booking or developing simulations, assessment exams, or other learning opportunities, contact the University of Saskatchewan Clinical Learning Resource Centre.
Procedural & Clinical Skill Development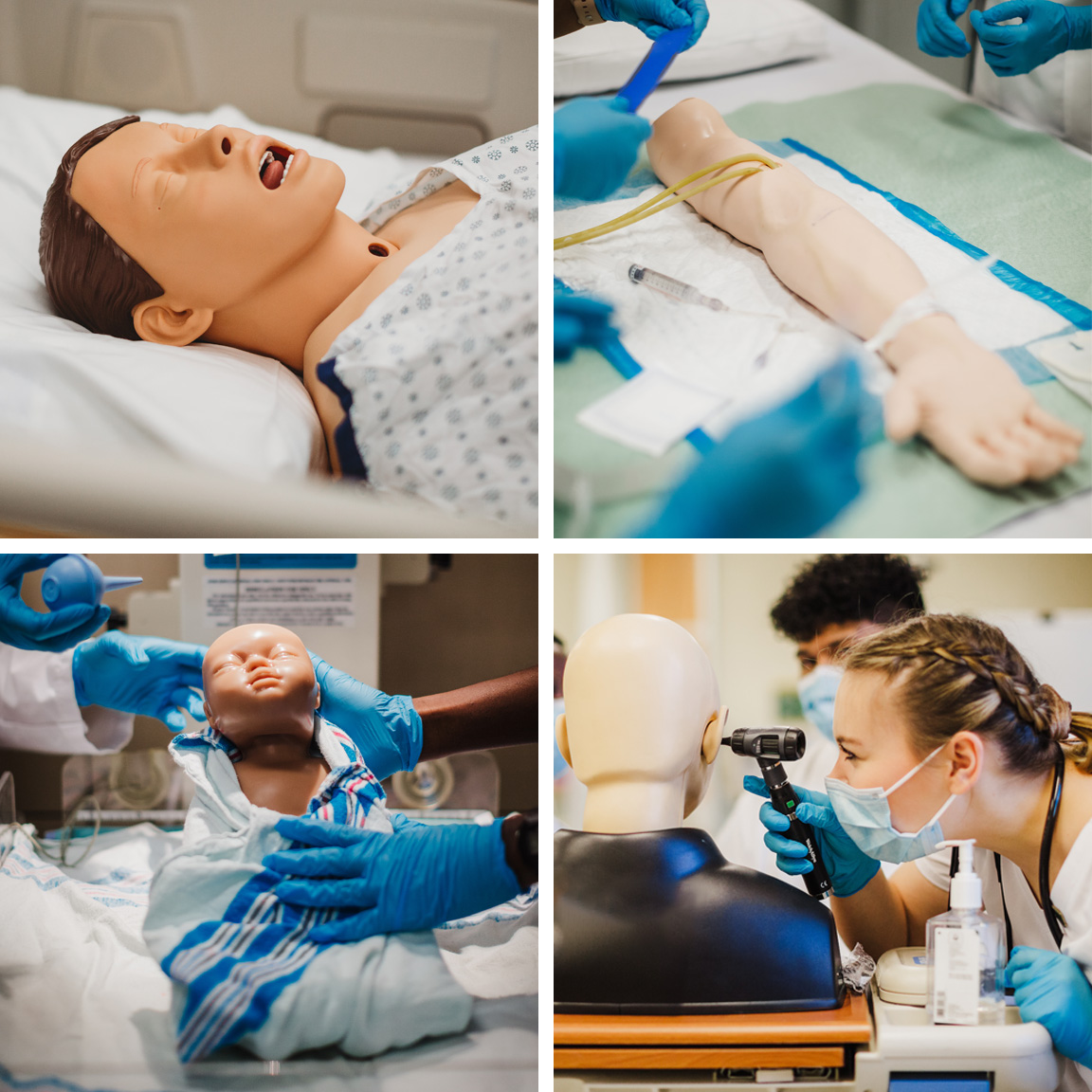 The CLRC has a robust array of procedural task trainers available for learners to develop and practice the critical skills they will perform in future clinical practice. Task trainers involving lumbar punctures, suturing, and more can be incorporated into real life scenarios to reduce errors, enhance safety, and facilitate realism within the learning session.
For example, learners can develop confidence and become competent in procedures such as intravenous (IV) line insertion by practicing on an IV arm task trainer prior to performing the procedure on a real patient.
Through both its manikin and procedural-based education opportunities, the CLRC is also able to support the University of Saskatchewan's Competence By Design (CBD) curriculum for postgraduate residency programs. In cases such as ultrasound placement of a central line (a required procedural skill crossing several residency CBD program requirements), the CLRC can make its ultrasound units and central line task trainers readily available for learner practice sessions.
Manikin-based Simulation
Manikin-based simulation provides healthcare practitioners and learners with opportunities to safely develop skills and competencies before using them on a real person.
The CLRC maintains a number of computerized adult, pediatric, and newborn manikins to realistically mimic human physiological functions such as breathing, heartbeats, pulses—and even voice—in a risk-free, simulated healthcare environment.
These manikins are fundamental to the realistic clinical scenarios developed to simulate medical emergencies. Scenarios include cardiac, respiratory, and trauma emergencies as well as clinical care situations such as childbirth, sepsis, and hypoglycemia.
In addition to fostering medical error reduction and enhancing patient safety in the clinical care environment, using manikins in realistic scenarios helps health science learners refine a variety of essential competencies requiring proficient procedural and clinical reasoning, crisis resource management, and other team-based acquisition skills.
Learner Practice Program
Students can practice skills independently and without supervision—during business hours or after hours—through the CLRC's Learner Practice Program.
This program is aimed toward health science students and/or members of ratified on-campus student groups who have received the appropriate orientation and training to use CLRC facilities after hours when CLRC staff are not available.
Learners are required to take part in an orientation session and sign an agreement stating that they have read and understood CLRC policies and student guidelines.
NOTE: Learners are required to maintain the quality and setup of their room once they have completed their session. A key and/or key fob will be supplied to the learner(s) during business hours before the start of the session. Any damaged equipment or lost keys will be repaired or replaced at the expense of the learner(s). The Learner Practice Program will not be accessible before, during, or after major high-stakes exams or Objective Structured Clinical Examinations (OSCEs).
Those who have satisfied the required guideline acknowledgements and training can book practice sessions in the Learner Practice Program through the CLRC Learner Practice Request Form.
Virtual / Remote Simulations
Since 2020, the USask Clinical Learning Resource Centre has supported virtual/remote learning sessions for learners to connect or collaborate across distances.
In partnership with health science educators, the CLRC can assist the development and implementation required to perform scenarios or take course content virtually. Hybrid models are available as well.
Additional Programs & Courses
The CLRC regularly works with University of Saskatchewan health science educators to support the delivery of content essential to various programs. Contact the CLRC to learn more about delivering unique course content requiring simulated environments, simulated patients, and/or simulation equipment.