Overview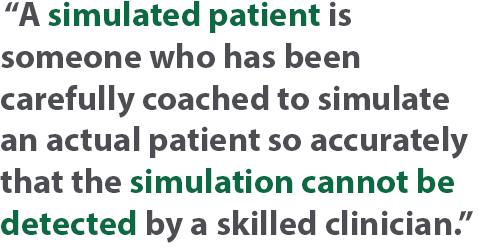 The Simulated Patient Program at the University of Saskatchewan Clinical Learning Resource Centre (USask CLRC) supports student education in undergraduate and postgraduate health science programs through recruitment, casting, and training of Simulated Patients (SPs) to portray diverse scenarios in a variety of standardized and/or high-stakes learning and assessment sessions. At the CLRC, these sessions are specially designed to evaluate how health science students learn as well as how much they are learning in order to prepare them for fundamental collaborative practices and enriching careers.
The SP Program includes course-based sessions, Objective Structured Clinical Examinations (OSCEs), licensing exams, and continuing education events. Clinical Learning Resource Centre staff also contribute to the development of patient scenarios for history-taking, physical exams, and advanced communication sessions.
Since 1997, the University of Saskatchewan has recruited reliable, emotionally mature, and articulate Simulated Patients (SPs) committed to the clinical education and assessment of health science students, graduates, and residents.
Simulated patients portray patients in learning sessions, assessments, and examinations while under the supervision of a licensed instructor. These events vary in terms of the level of simulation required—ranging from SPs sharing simulated personal histories to memorizing the story of a complex character.
As part of the educational team, SPs support simulation-based education and experiential learning by taking training to standardize unique physical symptoms, personal histories, emotions, and patient concerns for portrayal to multiple students. Learning objectives may include communication skill development, demonstrating non-invasive physical procedures, or a combination of both.
In performing the simulation, the SP presents the complete picture of the patient being simulated—not just the history, but the body language, the physical findings, and the emotional and personality characteristics as well.
SPs help to inform students' understanding of the patient experience and perspective, providing an invaluable service to University of Saskatchewan healthcare education in Saskatoon and Regina.
The Objective Structured Clinical Examination (OSCE) is a method of assessment used by health science departments to evaluate learner competency across a range of clinical skills including patient communication, physical examination, history taking, and interpretation of results.
Candidates rotate through a circuit of timed stations designed to portray real-world scenarios—many involve simulated patients portraying a specific role. Student interaction, performance, and decision-making are observed by a faculty examiner who may also follow up with oral exam questions.
OSCEs are typically held after the completion of a module, course, or semester. On average, the CLRC hosts between 60-80 OSCEs across all client programs each year.
To learn more about OSCEs and other licensing exams, visit the CLRC Exam Centre.
A handbook has been created for Simulated Patients (SPs) to access additional information about the SP Program as well as employee essentials such as using the University of Saskatchewan's personalized access to web services (PAWS), setting up multi-factor authorization (MFA), and more.
Become a Simulated Patient (SP)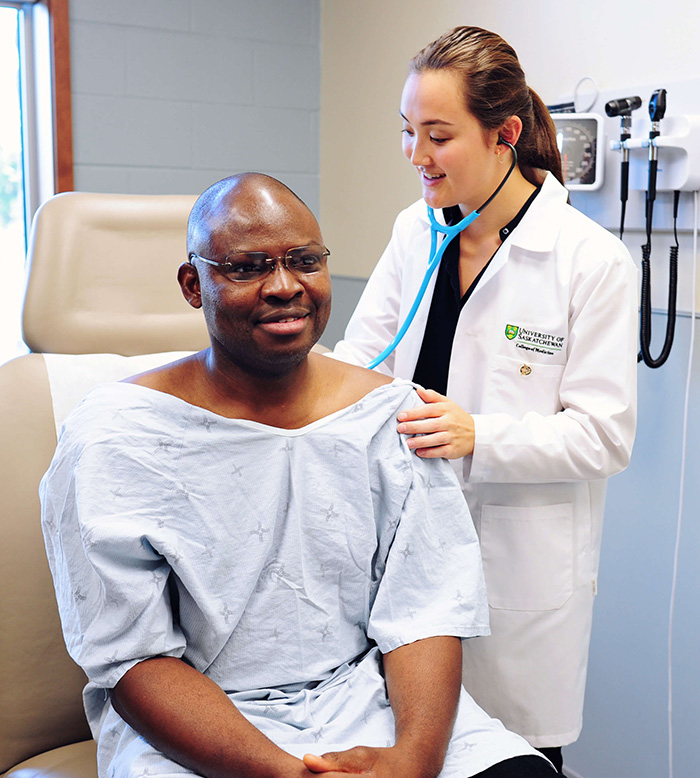 Simulated Patients (SPs) are members of the community who are interested in healthcare education and able to portray a range of unique physical symptoms, personal histories, emotions, and patient concerns in interactions with students, residents, and educators.
Many SPs have backgrounds in theatre or healthcare; however, people from all walks of life are required to reflect the diverse community members regularly engaged by healthcare professionals.
With individuals aged three to 90, the CLRC's growing pool of Simulated Patients is comprised of students, retirees, actors, healthcare professionals, teachers, and more.
No specific training or experience is necessary before joining the SP Program—the Clinical Learning Resource Centre regularly provides SPs with all necessary training and support resources prior to their involvement in each simulated exercise.
SP contributions are invaluable teaching resources that help shape the University of Saskatchewan's safe learning and practice environment. The CLRC offers SP Program opportunities at USask's Saskatoon campus and at our distributed campus in Regina at the General Hospital.
If you are interested in joining the SP Program at either the Saskatoon or Regina campus, please review the position description and complete the appropriate application form below.
Join the Sensitive Exam Teaching Associate (SETA) Program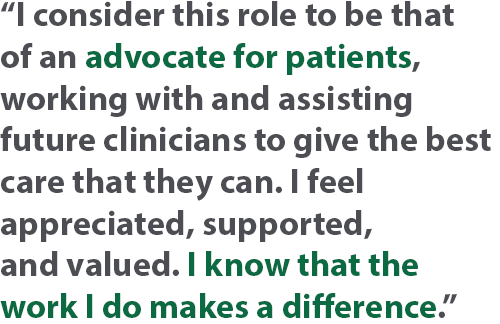 The Sensitive Exam Teaching Associate (SETA) Program was developed in 2015 through a collaboration with the University of Saskatchewan College of Medicine. In this program, male and female teaching associates are trained as health educators and advocates who then teach health science students how to perform sensitive exams using their own anatomy as teaching tools.
Female SETAs—referred to as Gynecological Teaching Associates or GTAs—demonstrate and teach breast and pelvic exams. Male SETAs—referred to as Male Urological Teaching Associates or MUTAs—demonstrate and teach urological exams. Specifically, SETAs provide real-time feedback on examination techniques, communication skills, and patient rapport during the sensitive exam. As these learners are guided through safe educational encounters and critical learning experiences, they gain confidence in fine technical skills and sensitive communication skills.
Initially, SETAs undertake an extensive training program and receive certification upon completion. Skill maintenance training sessions are also conducted throughout the year.
This program is offered at both the Saskatoon and Regina sites. If you are interested in working as a SETA, please review the position description and complete the application form.

Pediatrics Assessment Module
Every January and February in Saskatoon, the CLRC hosts the Pediatrics Assessment Module and recruits members of the community with children between the ages of three and eight to participate.
In this module, first-year medical students learn how to interact with a child patient and the child's parent/caregiver. This involves asking the parent about the child's current health/medical history and completing a non-invasive, head-to-toe physical assessment.
During the session, both a licensed pediatrician instructor and the parent/caregiver will supervise the child at all times. The parent/caregiver must provide informed consent to participate and must be able to answer comprehensive questions about the child's medical history.
PLEASE NOTE: This module is not intended to provide medical treatment or counselling. Participating children should be healthy without any ongoing medical issues.
If a health issue is inadvertently discovered during this module, the supervising pediatrician will discuss it with the parent/caregiver and recommend appropriate follow-up.
All students and supervisors are professionally obligated to maintain the privacy and confidentiality of all information shared.
Each child participating in the Pediatric Assessment Module, as well as the child's parent/caregiver, will receive an honorarium for each session they have taken part in.
Contact & Session Booking Information
Questions?
For questions about the CLRC's Simulated Patient Program, please email:
Book an SP Program session
To book a Simulated Patient Program session at the USask Clinical Learning Resource Centre, CLRC clients can use the following methods:
USask-affiliated clients: